Works Five: Wesley Gee, Director of Sustainability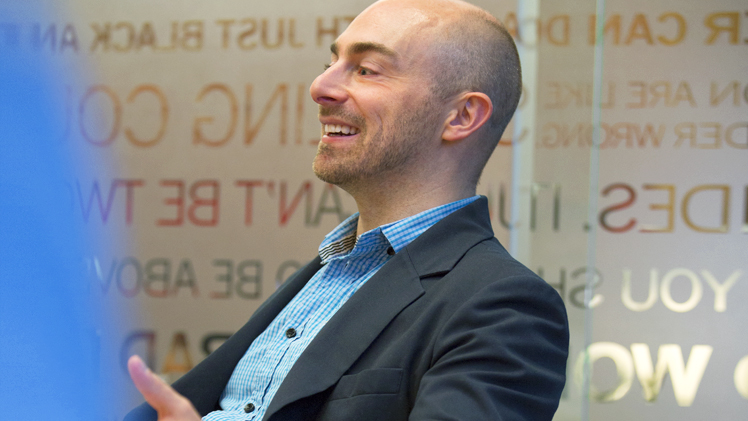 In an ongoing series profiling The Works' staff, we chatted with our Director of Sustainability, Wesley Gee, about the definition of success, the ever-evolving nature of sustainability reporting, and why storytelling matters.
WHO are you?
I'm a Nova Scotian – grew up in the Annapolis Valley, to be precise. There was a lot of hunting, fishing and sports in my youth, and, ironically, no exposure to big-city corporations. I became the first person in my family to earn a degree, eventually completing my Bachelor of Commerce, which included a few Master's-level courses in Business and the Natural Environment. (That's what they called sustainability back in the day.) Later, I earned my Master's degree in Sustainable Business at the University of Leeds, England.
WHAT qualifications do you need to be a Director of Sustainability?
Like I said, I have degrees, but I've never been asked for my transcripts. More than qualifications, I think my job requires a disposition. Sustainability is an active space, and you have to be passionate about self-education. You have to be a nerd – take classes and webinars; schedule meetings with academics and professionals; always ask questions. In this field, there's always a better solution than what's currently available. You'll never succeed if you just want to get paid or work nine to five.
WHERE do you see sustainability reporting going in the next five years?
Reporting will have an even greater day-to-day influence on how companies, investors and the general public choose to spend their money. Companies will use data and all tools available (social media, video, whatever's next) to both evaluate themselves and connect to the maximum number of stakeholders. With help from organizations like SASB, investors will increasingly assess companies based on both financial and non-financial metrics. And regular consumers – more ethically conscious than ever – will continue to demand corporate transparency, and use it to inform their purchase decisions.
WHEN did sustainability become important to you?
During my studies, I went on an exchange to the Philippines. Culture shock aside, it was the first time that I had been exposed to mining as a livelihood. That's a sector that faces great challenges and opportunities concerning sustainability. Seeing that mine, it became clear: I could make the greatest ethical impact by helping most sectors improve, rather than wearing a boycott flag. But we still need to know when to draw the line.
WHY should people care about the work you do?
Our team at The Works helps companies tell the whole story. You can throw a bunch of data out in the world, but you need context. We marry the creative with the technical to help communicate a company's purpose, and the expectations of its stakeholders. With a strong background in financials, we deliver honest reporting that's engaging and intelligent. That's why people should care about what we do.
---
---
---